11/01/12- I have some postcards for sale. Click the image for more details or the paypal button to purchase.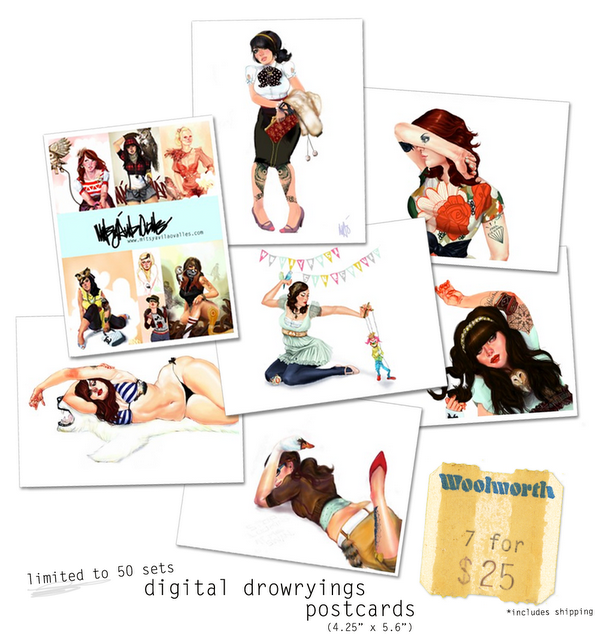 09/20/12- I'll have some pieces up at Ruth's Table tonight, in SF. Here's a link to the facebook invite.
08/12//12- Hi, updated some of the image galleries with my newer pieces. I also added a instagram link and a mailing list link. Have a look around.
12/10//10- I got stuff up on Zazzle's Artsprojekt. CHeck it.
07/10//10- Hey! I signed up for an Etsy account so I could peddle my wares (embroideries) through there. Notice I'm always trying to sell you things.
01/13//10-I have 2010 Calendars for sale! $12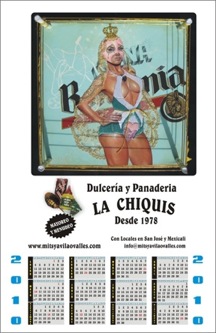 You can buy them through paypal here.
01/12//10- I'll be showing down in Los Angeles at FIFTY24LA, check my blogfor the flyer.
03/05/09- Showing up at FIFTY24SF tonight, the deets.


01/12/09- I had 50 of these wall calenders printed up. I'm horrible at documenting my work, so this is the best image I had available-it's a bit pixelated but what can you do? Pick one up for just $20 + $2.95 S&H. Let me know in the space provided if you'd like me to deface your copy with my chicken scratch signature. If you don't want to hassle with PayPal, email me to arrange a money order or check.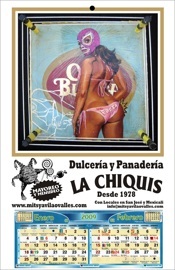 10/24/08- HAPPY BIRTHDAY MOM!!! Check my blog for the particulars on my "SHAKE DOWN SALE" or click below for a direct link.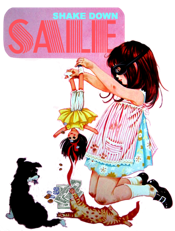 09/04/08- If there's white space to the right of this page, go ahead and shrink your browser window so that my website fits perfectly within it's parameters. Otherwise, it'll bother me, OCD is very real. ;) There's new blogs up and images in the work pages. This month I'll have some small new works (2) up in SF at SPACE gallery.


07/11/08- Ting, ting, ting..I'd like to thank Ricardo for putting all my chunty files together and building this site over. I owe him an infinite number of dark, pale, imported fermented pitchers of spirits. So now everything is consolidated, no more warp worlds. There's still a few things that need to go up, so check back often. Click on things.


01/08/08- Hi. So, as you can see, this website hasn't been updated in years. I don't have a way to (If you know Flash, hit me up) so I cheated and created some simple pages with images of new work. You can access this link from the splash page or if you missed it click here. As always you can also find out what's new through my WEB LOG or through my home away from home, THE SPACE.

My solo show "Woolgathering: Aguafiestas" is currently up at Rowan Morrison in Oakland. Check their website for the logistics. I was also in the "All Star Hustlaz III" show at White Walls in SF. Click the link to view some of the work from that show. Happy new year!

05/11/07- Hey ya'll, I will be showing in Pistolitas de Azucar: Cultura, Pop y Whimsy at Galeria de la Raza. The show runs from May 11- June 30th. Here's the line up...Monica Canilao, The Date Farmers, Amanda Lopez,Juan Luna-Avin, Angelica Muro, Txutxo Perez, Michele Muennig and Juan Carlos Quintana. Check the bold-type links provided for more info.
I also have a piece up for auction over at MACLA. The exhibit is on view now until the night of the auction, June 2.

03/01/07 NEW SHOW - "FULLY BLOWN"flyer.

11/14/06 In case you haven't heard, MYSPACE and BLOGSPOT are the new website. Check those out for the time being for updates from myself and the $nake Eye$ tag team.

8/8/06 How sad, I am two days short of having not updated my news section for a whole year! Don't hate me, I didn't know how. BUT now thanks to myspace, I'm all bouty bouty. See, the space is good for SOMETHING. So I don't know where to start as far as an update goes. I will say that last week was great! I was an art instructor at Villa Montalvo's fine arts day camp, kids are hilarious. Oh yeah, I also got a solo show out of it for January 2008 hahah, good looking out Narangkar and Pete of Rowan Morrison Gallery. Lets hope something else pans out and keeps me busy until then. In other news, the Dodger's have won 10 games in a row, quite a feat considering they lost 13 of 14 games after the all star break. Let's hope I didn't just jinx them. Well seeing as I can update the news anytime I want now, I'll have more later. Hopefully there will be real updates on my site soon.