0-0
It's time for Dodger baseball! Or nearly time, 1hrs 44mins 3 seconds and counting.
..
My best friend and her husband are not sports aficionados. Having no loyalty to any one sports team, I feel it's my responsibility to steer little Isis in the right direction before geography (unless the A's move to SJ) or negligence (on the part of masochist Giants fans) have their way. Besides, Belén does OWN a Dodgers jacket , and there was the time that she went to a ball game up in SF and thought the Dodgers were "hotter". That pretty much equates to Belen being a non-practicing Dodgers fanatic, so it makes her offspring of the same ilk.
To be fair, we had her feel out both Dodgers and Giants colors respectively...
Aww super cute and a smart cookie. That footage wasn't even doctored. Belen & Mona didn't have to make good on threats of giving her a little pinch or hair pull. She spat on and was miserable in orange and black all on her own. The pedos, also real. Do you like the manny wig I crafted?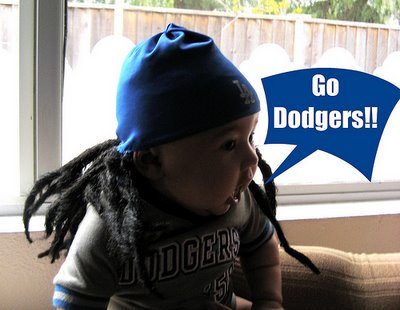 I made it out to the last spring training game of the season yesterday. Unlike the rest of the Dodger team that stayed back in preparation for opening day. Booo, no Manny, Russey, Raffy, Blake or O Dog. Good eats and plenty of unmerited BOLDNESS from vagiants fans thinking all bad because their regular line up edged out essentially the triple A LA squad and a wet behind the ears newly designated 5th starter, James McDonald. Lindblom was impressive, 4IP, 2 H, 3 SO, 1BB.
Bases juiced....